I thought this was quite a good read. It helps in thinking about the writer's task. I'm guessing that it goes beyond writing.
Op-Ed Contributor - Found in Translation - NYTimes.com via kwout
Before reading this piece I had been thinking about people whose faces seem similar to me, the twins in my title. One of the thins I'd like to know, as I give a couple of examples below is whether the similarity only appears in my own mind or if others see it too, though it shouldn't just be the physical similarity but also our visceral reaction to the images.

The first pair are from current events. Tony Curtis passed away last week. A dramatic actor known for his good looks and moxie, he was more famous for his comedy roles, particularly Some Like It Hot.
And for his look alike I've selected Rahm Emanuel, the now former Chief of Staff, a politico who craves the limelight. Indeed, on the News Hour last Friday, Mark Shields gave a sort of indictment about Emanuel that he cast too much attention on himself on issues where he disagreed with President Obama.

Here's a completely different pair. Last night I watched Bonnie and Clyde. Arthur Penn had also recently passed away. It was his tour de force, not only a great picture in its own right, but a trailblazer for many other films that followed it. Of course when you think of Bonnie and Clyde you think of Faye Dunaway and Warren Beatty. But there are some other compelling faces in the film. One is Michael J. Pollard. It's the impish smile that is so memorable.

I'm also a Yankee fan, as regular readers know. The past two years the Yankees regular right fielder has been Nick Swisher. He has a reputation for keeping the clubhouse loose, not taking anything too seriously.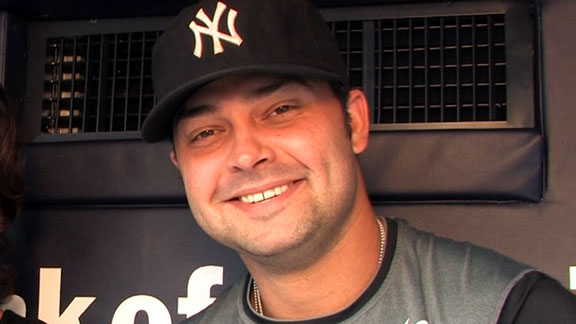 The question is, when making a translation of this sort, can we be sure we're emphasizing a relationship that is real? Or might it just be a figment of our own imagination? One of my favorite pieces of all time is The Streak of Streaks by Stephen Jay Gould, which debunks the "getting hot" myth. Does the same sort of thing hold for translation too, finding associations that just aren't there?

I hope not, for I seem to do it all the time.